Exeter Airport showcases investment and growth during visit
Secretary of State for Transport Patrick McLoughlin visited Exeter Airport today (22nd April) to find out how recent investment in essential infrastructure is helping to boost growth.
The airport has benefitted from a £2.5 million investment since it was acquired almost two years ago by Rigby Group, and the Government's Regional Growth Fund has recently spent £1.4 million upgrading the access road (B3184) to the airport and the neighbouring business park.
Mr McLoughlin was given a tour of the airport's new facilities by Managing Director Matt Roach, including the new executive lounge and new security area with fast-track, before meeting a group of local business leaders in the airport's new corporate jet centre to discuss regional transport issues.
Exeter Airport has seen passenger numbers grow in each of the last two years and earlier this month reported a 15% year-on-year increase in passengers over Easter.
The airport is working closely with the region's business community through its Exeter Connects initiative to tackle connectivity issues, develop new routes and enhance the business traveller experience.
Exeter Airport Managing Director Matt Roach said: "This was an excellent opportunity to update the Secretary of State on how public and private investment is boosting Exeter Airport. We also outlined some of our plans for the future, including improvements to the entrance to the airport and how further public investment in local road infrastructure would unlock land for employment and airport uses."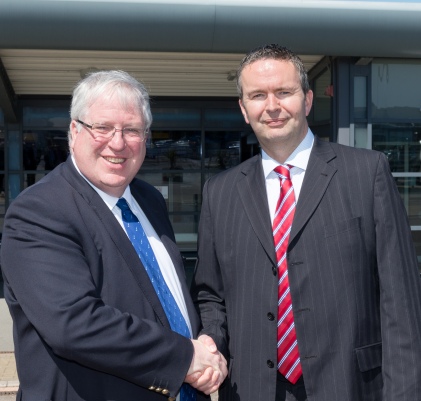 Secretary of State for Transport Patrick McLoughlin said: "Regional airports are important drivers of growth and trade. Our public investment in upgrading the approach road to Exeter Airport is a good example of how targeted infrastructure spending supports economic growth and job creation as part of our long-term economic plan."
During his tour Mr McLoughlin heard how Exeter Airport is a key asset to the region's economy, supporting some 3,000 local jobs and contributing an estimated £150m GVA to the local economy, not least through the skilled workforce based on site and the related supply chain.