Spitfire passenger flights will return and again be operating from Exeter Airport this month with the world's only Spitfire Flying School.
Members of the public have had the chance to get behind the controls of the iconic aircraft on 6th, 10th, 11th, 12th, 13th and 14th September as it flies over Devon with the Boultbee Flight Academy.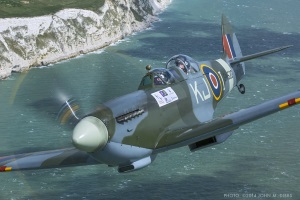 Exeter's location makes it ideal venue from which to enjoy flights in warbirds over some of the most beautiful countryside that the country has to offer, including Dartmoor, the rolling lush green hills that Devon is famous for, the Jurassic coastline to the east and beautiful rocky inlets around Dartmouth and Salcombe.
The famous Spitfires Merlin engine will be heard in the skies as it was did in WWII when the airport, then named RAF Exeter, was an active operational fighter base.
Exeter was the first site that was established away from the Boultbee Flight Academy home base for these Spitfire flights and they have proved a huge success.
For more information contact:
Boultbee Flight Academy
01243 53 11 47