A wannabe high-flying cat who went missing from his home more than a month ago has been found safe and well in the VIP jet centre at Exeter Airport.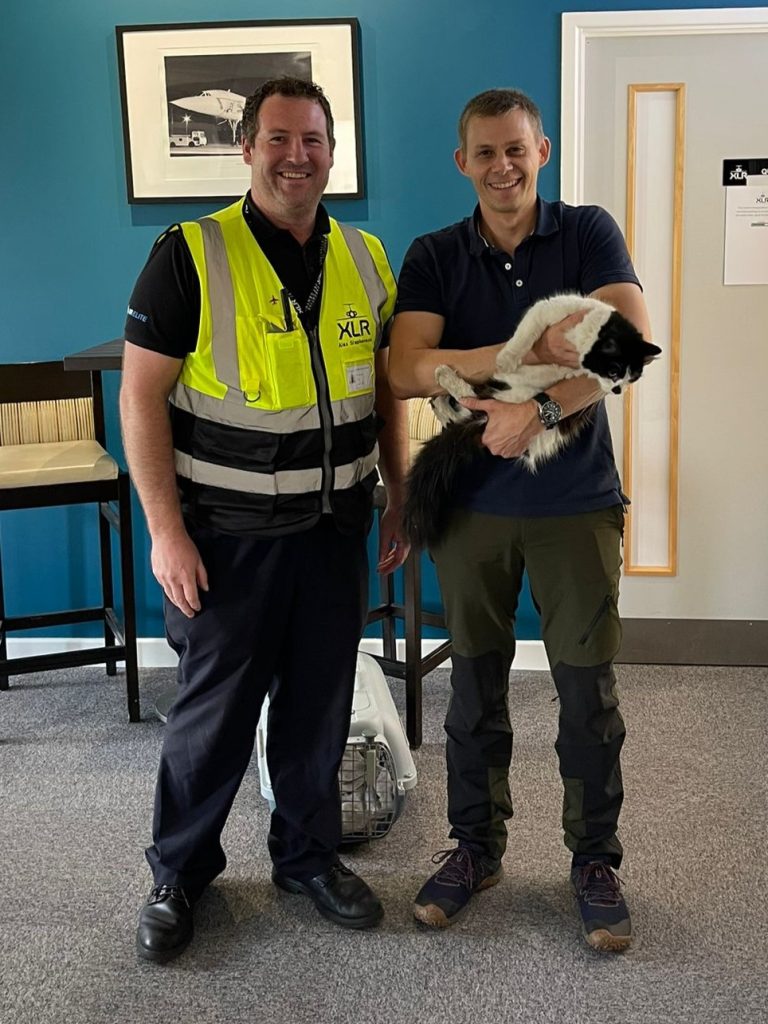 Ted was discovered last week in the roof of the airport's XLR corporate jet centre after staff heard a faint meowing sound above the kitchen area of the airport's base for private planes and passengers.
After catching sight of the frightened black-and-white moggy, Alex Stephenson, Executive Coordinator at the jet centre, along with colleagues Chris Beer, Luke Wells and Alan Freeman gently coaxed him towards a gap in the ceiling.
They then carefully carried two-year-old Ted down from his lofty perch and gave him some much-needed food and water before tracking down his owners.
Ted's worried family had given up hope of ever seeing him again after he went missing from his Cranbrook home four miles away on August 18.
The fearless feline had apparently climbed under the bonnet of a neighbour's car to escape the rain, the car had driven off and Ted was later seen jumping out at the roundabout near the airport.
"It was amazing when I got the call to say Ted had been found," said owner Charlotte Fleming. "I genuinely thought that was it – we'd lost him."
Charlotte and husband Rich knew he was last spotted at the airport because, incredibly, they bumped into a witness when they were handing out leaflets in the area a couple of days after Ted went missing.
"This chap was two cars back and saw a black and white cat shoot up the verge after jumping out from my neighbour's car," said Charlotte, adding she sobbed with relief when she got the call from the airport to say Ted had been found in the jet centre's roof space.
"We are ever so grateful to all of the lovely people who helped to rescue him," said Charlotte. "We took Ted to the vets to check him over and they said he was lucky to have been found when he was. He was so skinny and was on his last reserves."
The lucky pet is now back with his family, including children Hugo, eight and Penny, five. He is recovering well and eating his owners out of house and home having lost around half his normal weight during his adventure.
Ted, who is also adjusting to life with the family's new pet kitten, has been permanently 'grounded' for now and fitted with a tracker to make sure he doesn't get any ideas about wandering off, especially now he has a taste for the high life.
Exeter Airport's jet centre is a dedicated corporate aviation facility for private and chartered corporate aircraft.
A number of high-profile passengers have passed through the doors over the years, including Hollywood director Steven Spielberg, singers Van Morrison and Rod Stewart, A-list actor Johnny Depp, and various members of the Royal family. The Red Arrows also use it as a base when flying shows in the region.
Alex Stephenson said he and the team were well used to dealing with VIP clients and were only too happy to help this special – if unexpected – guest.
"We're just pleased that the tale (or tail) had a happy ending," said Alex. "He's been through quite an ordeal. I don't know how he got up there because it's quite high. He somehow managed to climb up onto the roof and then probably went to shelter in the roof cavity when the weather turned and we had all that heavy rain."
Alex said he and his colleagues, Chris Beer and Luke Wells were chatting in the kitchen area at the centre when Chris thought he heard a meowing sound.
"We all stopped to listen but then nothing happened," explained Alex. "We were about to walk out of the room when we heard another meow. We couldn't work out where it was coming from. I started calling for the cat and the meows got stronger until we realised it was coming from the roof."
By this time Airport Services Manager, Alan Freeman, himself a cat owner, had joined the rescue mission.
"We popped open the hatch in the ceiling and Alan managed to coax the cat out," said Alex. "We had to calm him down a bit because he was very stressed, and looked quite thin but he was soon happily eating and drinking."
Alex then set about trying to track down Ted's owners. He found a Facebook post by Cats Protection's Exeter Axhayes Adoption Centre, which highlighted an appeal from Ted's family about how their much-loved pet had last been seen in the Exeter Airport area.
Alex replied to the post, reassuring the relieved family that Ted was safe.
"The owners were so pleased," said Alex. "It's nice that we were able to help."