A high powered trade mission between the Westcountry and Norwich has been hailed a great success – with the return leg already being planned.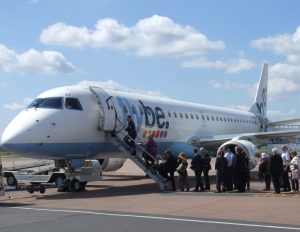 On Monday this week 24 delegates from Exeter Airport's Connects business ambassador network met with their counterparts from Norwich Airport's Connects network to discuss regional trade opportunities.
Both airports are part of Regional and City Airports, the airport management division of Rigby Group plc, which organised the visit with support from regional carrier Flybe and the New Anglia Local Enterprise Partnership (LEP).
Delegates from South West businesses, universities and local authorities were hosted at a trade delegation dinner at Norwich City Football Club by the Sheriff of Norwich, David Walker, and Mark Pendlington, Chairman of the Norwich Connects Ambassador network and Chairman of New Anglia LEP.
On Tuesday delegates visited the renowned Centre for Environment, Fisheries and Aquaculture Science in Lowestoft, and Norwich Research Park, which is a community of over 75 businesses, 3,000 scientists, researchers and clinicians.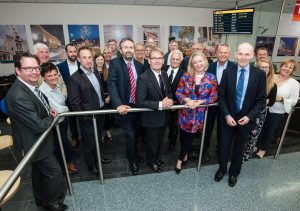 Among those on the mission was Julie Hawker, joint chief executive at Cosmic, a digital and training agency based in Honiton in East Devon. She said: "The Exeter Connect business group arrives at Norwich Airport to begin a 24-hour visit hosted by the New Anglia LEP.
"I really valued the opportunity to go to Norwich and make new connections in another part of the UK. It's absolutely essential that regions work together and at Cosmic we've benefitted from regional co-operation in many of our major projects over the years, particularly around skills and technology developments. And the 45-minute flight from Exeter to Norwich was a revelation, and very straightforward."
Professor Anne Carlisle, Chief Executive and Vice-Chancellor at Falmouth University in Cornwall, said: "It's been extremely interesting, particularly the visit to the Norwich Research Park and seeing all the different types of work that are being done in that concentrated environment. It's a very interesting model for me to see the benefits that they are getting from that adjacency. And because there is a heavy emphasis on bio-sciences you can see connections potentially to the South West and some things that could be taken forward in partnership between the two areas."
Tim Jones, chairman of the Exeter Connects ambassador network, said the trip had surpassed expectations: "It was a very positive trip and we've already had terrific feedback from our delegates who are keen to follow-up. We predicted there would be some strong links between the research expertise in Norwich and our own food and drink sector, and that has proved to be correct. Other sectors include marine, digital and business services, and we were all surprised at how many positive links we came away with."
Matt Roach, managing director at Exeter Airport, added: "The fact that delegates could fly to Norwich from Exeter in 45 minutes instead of five hours by road was a real eye-opener, and we were delighted to facilitate such an important visit. That's what Connects is all about and we hope to see a return trip before the end of the year."
Mark Pendlington, Chairman of the Norwich Connects Ambassador network and Chairman of New Anglia LEP, also stressed the importance of regional air links: "We're delighted to have been able to show our visitors the best that the East has to offer and I'm glad that they all enjoyed touring our world-leading institutes at CEFAS and the Norwich Research Park.
"One of the best things that I think the Rigby Group is doing through the airports it owns is making the connections between those airports and making sure that regions are talking to each other. Airports are absolutely at the heart of economies and they are going to grow in importance. This trip has helped bind and bond our common interests and we look forward to a return visit to the South West."
The trade mission was been supported by regional carrier Flybe which launched its up to four times weekly service between Exeter and Norwich in March last year. It was the first route to be operated under the Government's Regional Air Connectivity Fund.