Exeter Airport's new Fire Training Rig was inspected today by a team of airport managers ahead of the official launch.
The visit to the new equipment was in UK Airports Safety Week which is the Airport Operators Association (AOA) initiative to capture the imagination of a wide cross-section of airport stakeholders and to engage, inspire and educate about a safety culture.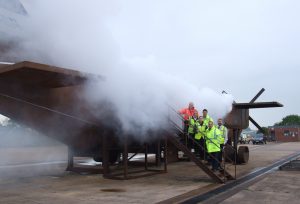 The airport's Fire Service Manager Darren Kinsman-Moore conducted the tour of the training equipment and explained that the airport's Rescue and Fire Fighting Service would soon be able to simulate emergency situations in and around the specially built steel fuselage. The facility is a hybrid, which replicates several types of aircraft with different seating plans and power units, can be remotely controlled, set on fire and smoke-filled for the training of fire fighters.
The visit was seen as an important understanding of airport fire issues and passenger safety in UK Airports Safety Week.