Flybe is offering students a double baggage allowance deal.  The year-round offer means that all students with a valid student ID card can travel with two items of hold baggage weighing up to 46kg while only paying for the price of one 23kg item.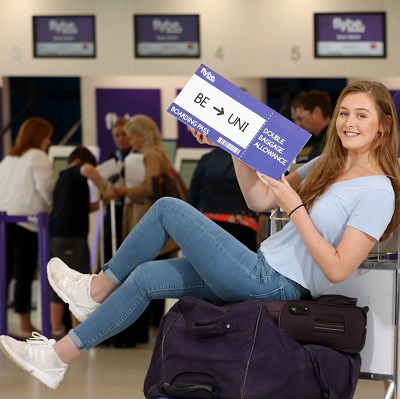 With the peak travel time approaching for those heading off to colleges and universities for the first time, or returning for the start of a new academic year, this is a cost effective deal for students flying from Exeter to further their education in cities such as Edinburgh, Glasgow, Manchester, Newcastle or Norwich.
To take advantage of the offer from Europe's largest regional airline, students simply have to book a seat at Flybe.com together with one standard 23kg item of hold luggage and, at the airport Bag Drop on the production of a valid form of student ID, the extra bag to a total weight of up to 46kg, will be checked in at no additional cost.
Students can take extra 23kg bag free of charge
Year-round offer
Available with valid Student ID card
Roy Kinnear, Flybe's Chief Commercial Officer, says: "We would like to congratulate all students who have passed their recent exams and are now looking forward to an exciting future as they move on to further their education.  We hope that this generous hold luggage allowance will make their travel experiences more affordable and enjoyable."